THE $5000 FLEURBURGER VS. THE $4.99 IN-N-OUT BURGER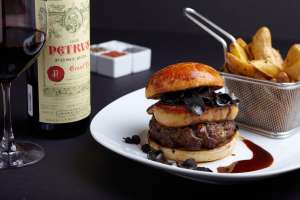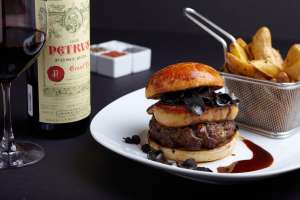 Fleur de Lys at Mandalay Bay is home to the FleurBurger 5000, which costs $5,000 not including tip and tax.
A hop, skip, and jump across the I-15 is mainstay In-n-Out Burger (4888 Dean Martin Dr./Industrial Rd.) offering a Double-Double combo for $4.99 not including tip and tax.
Prepared by Chef Hubert Keller, the FleurBurger 5000 is a Kobe burger containing foie gras, a special truffle sauce, and is served on a brioche truffle bun.
Prepared by Katie, the In-n-Out Double-Double is two 100-percent pure beef patties, topped with two slices of American cheese, tomato, hand-leafed lettuce, a choice of onions, and is served on a freshly baked bun.
The FleurBurger 5000 comes with black truffles.
The In-n-Out Double-Double comes with fresh cut potatoes, prepared in 100 percent vegetable oil.
Both are never frozen, nor do the burgers hit the grill before you order.
The FleurBurger 5000 comes with a bottle of Chateau Petrus 1990 poured in Ichendorf Brunello stemware imported from Italy that will be mailed to your home. The Petrus 1990 itself is valued at $988.
The In-n-Out Double-Double combo comes with a medium soda of your choice in a disposable cup that you can take home with you. Minus the cup, it's valued at $1.10.
This was a tough decision until further investigation found a 2-for-1 discount: if you're dining with someone and you order the FleurBurger 5000, your companion will get a free burger. Plus if you order it without the Petrus, the burger is $75.
That effectively brings the cost down to $37.75 for the burger, or a $4,962.25 savings.
I could not find any In-n-Out coupons.
The choice is simple: order the FleurBurger with an In-n-Out milkshake.