LAS VEGAS STRIP CLUB REVIEW: SPEARMINT RHINO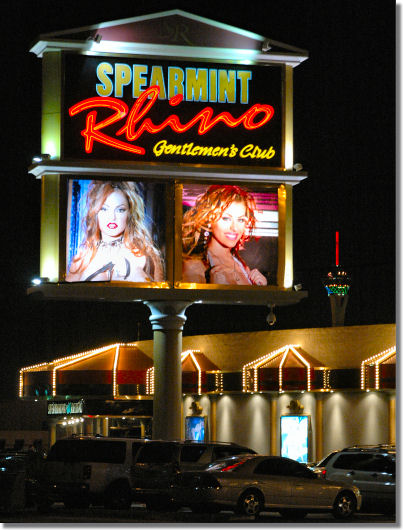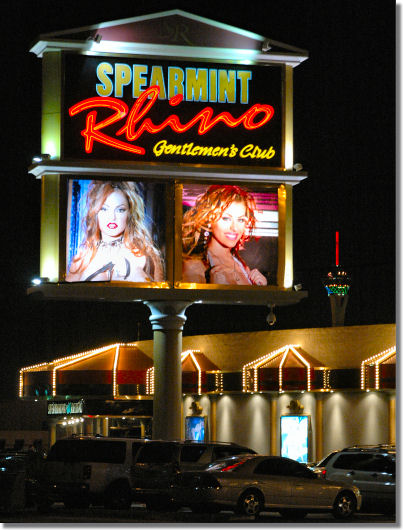 Spearmint Rhino Las Vegas
Spearmint Rhino
Address:
 3344 Highland Dr., Las Vegas, NV 89109
Phone:
 (702) 796-3600
Hours:
 Open 24 Hours
Admission:
 $20 (Free for locals!!)
Lap Dances:
 $20
Food:
 Yes
Parking:
 Valet service and a free parking lot
ATM:
 Yes (2)
Website:
 http://spearmintrhino.com/
MySpace:
 http://www.myspace.com/spearmintrhinoworldwide
Spearmint Rhino is regarded one of the best strip clubs in Las Vegas and one of the most prestigious strip clubs franchises in the world. There's a reason why "The Rhino" is well regarded which is directly related to the quality of talent that they employ. The girls and dancers at Spearmint Rhino are some of the best in the business which include some of the most beautiful adult entertainers in the world.
Spearmint Rhino has been in operation since 1989 and has now expanded to over a dozen locations world wide. The Las Vegas location is a popular destination for bachelor parties and celebrity sightings. Both Howard Stern and George Clooney are frequent visitors at The Rhino. Prince Harry has also been spotted at their British locations.
More after the jump…
The Spearmint Rhino is one of the classiest strip clubs that you will ever visit with plush leather chairs and eloquent artwork adorning the walls.
They also offer up a luxury VIP lounge, private cabanas, and private booths. There is a main stage and two smaller go-go stages. The main room has plenty of comfortable seats.
You must be at least 21 years old to visit the Spearmint Rhino in Las Vegas.
The DJ plays plenty of classic and hard rock with some hip hop.
Discounts: Spearmint Rhino is free to Nevada state residents. If you are a local, show your Nevada's driver's license at the door to obtain free admission. Some Las Vegas strip clubs offer free or reduced admission at the door for local residents. This varies depending on the establishment.
Interesting Trivia: There are several Spearmint Rhino locations all over the world including multiple locations in California, Australia, and England. There are also franchises in Florida, New Mexico, Texas, Idaho, Kentucky, and the original hot spot in Los Angeles.