ERIC FROEHLICH YOUNGEST EVER BRACELET WINNER AT THE WSOP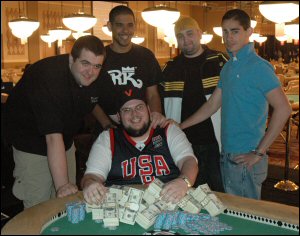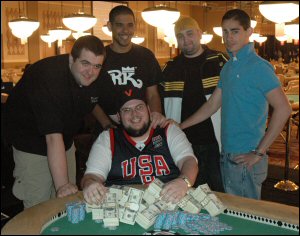 Just after 4 AM on June 7th, history was made at the Rio casino in Las Vegas. Eric "Efro" Froehlich became the youngest ever bracelet winner at the World Series of Poker. He turned 21 on February 9th.
Eric "Efro" Froehlich from Los Angeles, CA took first place in the $1,500 buy-in Limit Hold'em tournament and won $361,910 in the process. Efro is a close friend of the 2004 main event runner-up David Williams, who stayed on the rail the entire time to cheer him onto victory.
On Sunday 1,049 players started the 4th event at the WSOP. Play resumed on Monday at high noon with 33 players remaining. The short stack at the table was Wing Wong who has eight WSOP final tables under his belt. Adam Hersh, a UNLV student, began day two of the tournament as the chip leader with over $248K in chips. Some notable players at the table included Christian Van Hees from Seattle, WA, who was the Limit Hold'em champion in 1995. Along with Peter Costa from Great Britain, who won the 2003 Australian Poker Championships. He finished 7th place.
Eric "Efro" Froehlich started out hot. In the first hand of the final table he flopped a full house with AJ. Almost eight hours later, he would be putting on a gold bracelet and making WSOP history. He played heads up against Jason Steinhorn also from California.
Their heads up battle lasted over two and a half hours. The chip lead swung back and forth. In the end, Eric "Efro" Froehlich emerged victorious when he rivered a flush with K4s. That had was good enough to win his first WSOP bracelet and $361,910. Jason took second place and won $182,040. This was a marathon heads up battle and both guys hung in there especially when they found themselves outchipped
In his interview with Norman Chad, the 21 year old Efro said, "This win basically justifies my whole life."
A victory like Efro's will inspire and encourage many more younger players to consider leaving college to pursue poker for a living. Efro was just one credit shy of graduating college. He dropped out to play poker full time, which ended up being a wise choice based on his performance the last two days. Congrats again to Eric "Efro" Froehlich. He said he was going to win a bracelet when he turned 21. He certainly did that while making WSOP history in the process.