THE MIGHTY QUINN STRIKES GOLD AND WINS WSOP EVENT #17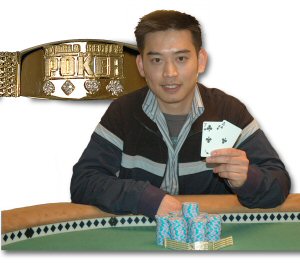 [Be sure to visit the World Series of Poker live blog from Dr. Pauly. More photos are now in the 2005 WSOP Photo Gallery. Complete World Series of poker tournament results can be found at Poker Player Newspaper. The 2005 World Series of Poker Top Money Winners list is available at Poker Player Newspaper. Be sure to check out the Poker Star's Blog from Otis for another prespective on the wSOP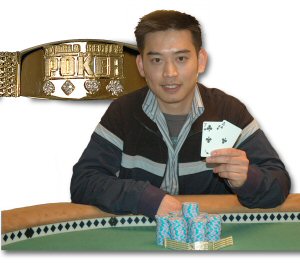 Quinn Do was two classes short of a degree in criminology at the University of Washington before he left school. He wanted to become a private investigator and his journey through life ended up taking him into the restaurant business instead. He began playing poker locally in Seattle and eventually moved to Southern California, where he could play full time. He improved his game and his friends John Phan and Liz Lieu encouraged him to play in larger buy in tournaments.
This is Quinn Do's first year at the World Series of Poker and his dream was to win his first bracelet. He ended up doing just that. Quinn Do won Event #17 $2,500 Limit Hold'em and beat out 372 other players who were all competing for tournament for a prize pool was $857,900.
Action at the Rio started with 20 players on Sunday. Carlos Mortenson and Mark Gregorich were both knocked out early in the second day of the event. Here are seat positions and chip counts for the final table:
Seat 1: Noah Boeken (Amsterdam, Holland) $20K
Seat 2: Quinn Do (Seattle, WA) $77K
Seat 3: Sammy Arzoin (New York) $61K
Seat 4: Rodeen Talebi (Dallas, TX) $171K
Seat 5: Greg Debora (Toronto, Ontario, Canada) $44K
Seat 6: Mike Davis (Spokane, WA) $87K
Seat 7: Spencer "Here Comes the" Sun (Novato, CA) $115K
Seat 8: Chi Chang (Los Angeles, CA) $212K
Seat 9: "Captain" Tom Franklin (Gulfport, MS) $124K
Seat 10: Tony "TNT" Nasr (Pico Rivera) $33K
Here are some interesting tidbits about the players at the final table… Quinn Do is originally from Vietnam and he also cashed in the Limit Shootout. Chi Gang plays a lot in the LA casinos and this is the first year he's played at the WSOP. Captain Tom Franklin is a producer from Gulfport, MS and has won 3 bracelets. He also loves karaoke. Rodeen Talebi is professional poker player from Texas. This is his second final table this year. Sammy Arzoin is a professional poker player from New York. He has a 27th place finish in the main event. Mike Davis is a CEO of a grocery chain in Washington State. This is his first year at the WSOP. Tony Nasr is known as TNT. He's originally from Lebanon and he lists "man of all trades" as his profession. This is his first final table. Noah Boeken is a 24 year old poker player from Amsterdam. He won the EPT Copenhagen event. Spencer Sun is a computer programmer from Novato, CA.
Noah Boeken was the first player knocked out at the final table. Quinn Do sent him home in 9th place. Boeken was shortstacked and moved all in with AQ. Quinn Do had A8 and flopped an eight. Quinn Do moved into the chip lead. He started with one of the short stacks and played aggressively, picking up plenty of pots along the way. Quinn Do continued his rush. He added to his stack when he eliminated Spencer "Here Comes the" Sun in 8th place. He won $25,735.
Captain Tom Franklin knocked out Rodeen Talebi in 7th place. Rodeen won $42,895 in his second cash at this year's WSOP. Quinn Do kept up his domination of the final table. This time, Sammy Arzoin was his victim. Sammy was shortstacked and moved all in only to be taken down by Quinn Do. Arzoin finished in 6th place and won $42,895.
Captain Tom Franklin was knocked out when his A4s lost to Quinn Do's pocket tens. The poker gods have been smiling on Quinn Do all night long. He caught a set on the turn after Captain Tom flopped an ace. He went home in 5th place and won $51,475 for his hard work. Chi Chang knocked out Tony Nasr in 4th place. Tony "TNT" Nasr moved all in blind with his shortstack and Chi Chang flopped a set with 99. Tony won $60,055 for 4th place. Tom Davis was eliminated by Quinn Do. Davis won $68,630 for third place.
We reached heads up play and with the stacks were about even. In Limit Hold'em, a close chiplead during heads up play meant that it was going to be a long battle. Liz Lieu came by to sweat her friend Quinn Do.
After about ninety minutes of play, we had a new champion. On the winning hand, "The Mighty" Quinn Do flopped the nut flush with A7s against Chang's J9o. He won $137,265 for his efforts. Quinn Do won his first bracelet and won $265,975. Congrats to Quinn. He wanted to be a private investigator but I'm sure he's content with becoming the 17th player to win a WSOP bracelet this year.