DR. PAULY PLAYING AT THE 2005 WSOP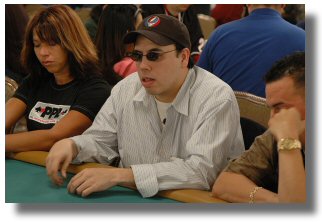 06/22/05 13:35 PST UPDATE: Charlie Tuttle has passed on, my heart goes out to Jason and Charlie's family. Dr. Pauly's story on Charlie is up on FoxSports.com-Prof
[Be sure to visit the World Series of Poker live blog from Dr. Pauly. More photos are now in the 2005 WSOP Photo Gallery. Complete World Series of poker tournament results can be found at Poker Player Newspaper. The 2005 World Series of Poker Top Money Winners list is available at Poker Player Newspaper.]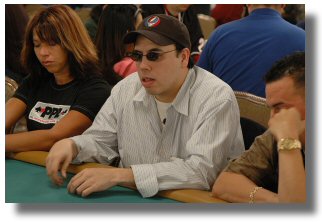 The World Series of Poker event #22 began play today at the Rio Hotel here in Las Vegas. The third largest tournament in the history of the World Series of Poker sat down at the noon hour to begin the quest that ends with a gold bracelet and a huge pile of cash. Among the poker faithful, seat #6 at table #44 to be exact, was Paul McGuire or Dr.Pauly as he is lovingly known to his many fans and readers. Some know him as the master blogger living at Tao of Poker. Pauly has been live blogging 2005 WSOP direct from the floor of the Rio's Pavilion, the 2005 home of the World Series of Poker.
The tournament, a $1,500 buy-in No Limit Hold'em event began with the good doctor stealing a few chips in the early action. The strategy he employed was an apparent 'folding to success varient,' so standing around watching him was another slo-mo grass growing experience. I am usually all over the Pavilion floor with the camera recording visual evidence of poker history being made, so I would stop by Pauly's table and fire off a few shots, then move on. After a couple of hours into the action the players at table #44 were moved into empty seats around the room and Pauly went to table seat #6, way in the back corner of the room. Little more than an hour at the new table and Dr. Pauly found Big Slick staring at him. One of the young guns called his raise and the flop brought an Ace giving Pauly top pair with top kicker. He bet and the other player raised all-in. Pauly was pot commited and called with the remainder of his chips. The kid was holding A,10o giving Pauly's King the lead. The turn was a blank and the river was the evil Ten. The kid had made two pair and immediately started high fiving his friends while loudly touting his superior playing skills. Dr Pauly asked him one question before leaving he table, "Did you ever think I had you out-kicked?" Dr. Pauly is now back to live blogging all the WSOP action.
Wandering around the two hundred tables packed with ten thousands of players I came across Mike Matusow and Phil Hellmuth sitting side by side. What are the odds of these two drawing consecutive seat numbers out of a field of two thousand plus? While shooting some photos of the two multi-bracelet winners I listened in on the conversation which went something like this:
Mike: "I had a great night playing last night."
Phil: "Yea, how did you do?"
Mike: "I only lost $17K and that's the best I've done in a week."
Phil: (laughs) "I do that too."
More later from the floor of the 2005 WSOP.
RIP Charlie…