DAN SCHMIECH BEATS GABE KAPLAN TO WIN WSOP BRACELET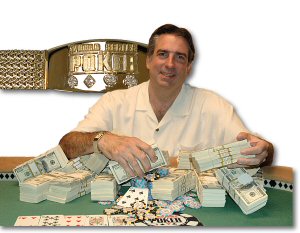 [Update: Check out Dr. Pauly's latest sounds bytes over at the Lord Admiral Poker Podcast and hear what's on Phil Hellmuth's iPod from the man himself.Be sure to visit the World Series of Poker live blog from Dr. Pauly. More photos are now in the 2005 WSOP Photo Gallery. Complete World Series of poker tournament results can be found at Poker Player Newspaper.]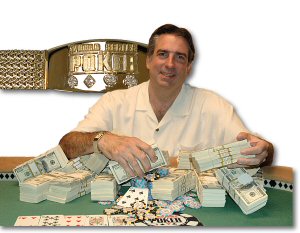 Dan Schmiech had been getting pummeled by Gabe Kaplan consistently the day before, but he patiently waited at the final table and got his revenge when he beat Gabe Kaplan heads up to win his first WSOP bracelet. In his second year at the WSOP, Dan Schmiech has two cashes and one bracelet, which is not too bad for a guy who plays a lot of internet poker. Dan Schmiech outlasted a final table that included a former professional athlete, an actor, a mother of four, the son of a famous poker player, a law student, a small business owner, a magazine publisher, and a seasoned tournament veteran who's seeking his first bracelet.
There were 269 players in the $5K Limit event competing for a prize pool of $1,264,300. Here are the final table seat assignments and chip counts:
Seat 1: Joe Sebok (San Francisco, CA) $184K
Seat 2: Annie Duke (Portland, OR) $150K
Seat 3: James Kwon (Chicago, IL) $227K
Seat 4: Gabe Kaplan (Los Angeles, CA) $290K
Seat 5: Dan Schmiech (Houston, TX) $219K
Seat 6: Young Phan (Irvine, CA) $144K
Seat 7: Luke Neely (Austin, TX) $94K
Seat 8: Jeff Shulman (Las Vegas, NV) $38K
Seat 9: Greg "FBT" Mueller (Vancouver, BC) $89K
Here are some random facts about our final table players:
Joe Sebok, the son of Barry Greenstein, just started playing poker seriously about a year ago. If it weren't for poker, he'd be a full blown internet geek. This is his second final table at this year's WSOP.
Annie Duke won the Tournament of Champions last year. This is her first final table at the 2005 WSOP.
James Kwon was born in Korea. He's a small business owner and enjoys billiards.
Gabe Kaplan is a proud graduate of P.S. 161 in New York City. He's lists his occupation as a marine biologist and thoroughly enjoys armadillo races. His nickname is "Pookie" and he collects a modest residual paycheck for his days on Welcome Back, Kotter.
Dam Schmiech is a professional poker player who is originally from Brownwood, Texas. He has one cash at this year's WSOP and plays regularly on Poker Stars.
Young Phan was born in Saigon, Vietnam. Despite numerous final tables and multiple cashes, he's never won a WSOP bracelet. He also enjoys baseball.
Luke Neely is a law student originally from Springfield, MA. His favorite hobby is sleeping.
Jeff Shulman was born in Seattle and has a B.S. from the University of Washington. His nickname is "Happy."
Greg Mueller is known as "FBT" which is an acronym for Full Blown Tilt. He's a former professional hockey player who also enjoys food and acting.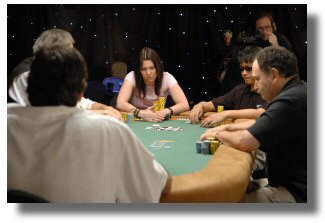 Early on and with a shortstack, Jeff Shulman doubled up with pocket aces against Young Phan's A-3. Shulman had $80K in chips and created a little breathing room for himself. Greg Mueller was the first player eliminated from the final table. On the flop if Ks-7c-4s, Phan bet out. Mueller raised and Phan reraised. Mueller called the rest of his chips and was all in. Phan flipped over 8-8 and Mueller showed 9-9. Mueller was in the lead until Phan caught a runner-runner straight to knock him out. Greg Mueller won $25,285 for 9th place. James Kwon continued to be the chipleader.
Gabe Kaplan put a wicked bad beat on Young Phan. Gabe Kaplan had 10-3 and flopped bottom pair. Phan had A-3 and also flopped bottom pair, but with a better kicker. The river was a ten and "Mr. Kotter's" three outer sent Young Phan home in 8th place. He won $37,930. Annie Duke and her As-Qs caught a runner runner flush to knock out Jeff Shulman. He flopped top pair with KJ. Jeff "Happy" Shulman was not too happy to be eliminated in 7th place. He won $50,570.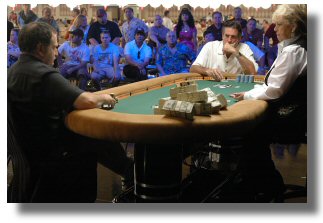 Welcome Back, Mr. Kotter! Gabe Kaplan doubled up three times inside of fifteen minutes. He survived all in attempts each time and was still alive. That seemed to be the momentum he needed to start his run. Joe Sebok went on a rush too. He scooped a big pot and moved into the chip lead. Luke Neely was short stacked and busted by Annie Duke. He finished in 6th place and won $63,215. Annie Duke doubled up on two hands, once against Gabe Kaplan and the other time with James Kwon, when her Hiltons held up against pocket Jacks.
Joe Sebok's rush ended and he found himself the short stack once again. His pocket Kings doubled up against Gabe Kaplan's Big Slick. That would be one of the last major pots he'd win. Joe Sebok was eventually knocked out in 5th place by Annie Duke. Joe had pocket 3's to Annie's K-7. Annie flopped a King and Joe's hand failed to improve. Joe Sebok won $75,860.
After a couple hours of four-way play, Gabe Kaplan took over the chip lead with $640K after he won a monster pot from James Kwon who only has $200K remaining. Annie Duke was shortstacked and moved all in preflop with Q-J. Dan Schmiech called with A-2 and his hand held up to eliminate Annie Duke, who won $88,500 for fourth place.
James Kwon moved all in with A-J. Dan Schmiech called with Ah-5h and caught some of the flop with a pair of fives. Kwon's hand did not improve and he was eliminated in 3rd place. He won $113,785.
When play reached heads up, Dan Schmiech held a 2 to 1 chip lead over Gabe Kaplan. After 16 hands of heads up play, Gabe Kaplan was eliminated in second place. He won $222,515. Dan Schmiech won his first bracelet and $404,585. He started the final table with a decent amount of chips and never gave any of them up.
"I hit a great rush of cards and everything fell in place at once," Dan Schmiech explained about his play at the final table. Congrats to Dan!