DOYLE BRUNSON TIES JOHNNY CHAN WITH 10TH WSOP BRACELET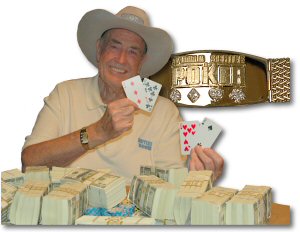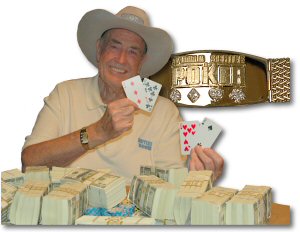 Doyle Brunson once again proved why he's the best poker player of all time. At the age of 72 he won his 10th bracelet and tied Johnny Chan for the most career World Series of Poker bracelets. He beat out one of the toughest final tables so far this year. And for someone of his age to play until four o'clock in the morning is a testament his mental strength and willingness to win. His epic victory comes just one week after his son, Todd Brunson, won his first bracelet. His latest milestone also occurred four days after his friend Johnny Chan won his 10th.
The $5K NL Short-handed event began with 301 players. The prize pool was $1,414,700 and action began on day two with 25 players including several top names like John Juanda, Doyle Brunson, Chris "Jesus" Ferguson, Johnny "World" Hennigan, Layne Flack, Jason Lester, Men the Master, Scotty Nguyen, Kirill Gerasimov, John Duthie, and Minh Ly. This is my favorite event because the game is fast paced. With six players at every table, you are forced to make more decisions and play more hands.
When action got down to nine players, Doyle "Texas Dolly" Brunson sat on top of a huge mountain of chips. He was gunning for his 10th bracelet and at the time, he looked like a lock for the final table. I witnessed a wild hand where Men the Master showed me his hole cards as I stood behind him. The table was four-handed. Minh Ly raised all in. Doyle Brunson thought about it for a few seconds and called. Men the Master agonized over his possible call. "If my hand hits, I win a huge pot," he said to everyone within earshot. Men the Master picked up his cards and showed it to both me and Scotty Nguyen who got up from his seat at the adjacent table to check out the action. Men the Master counted up all his chips and thought for another minute before he folded A-K face up. Minh Ly showed Hilton Sisters and Doyle Brunson flipped over A-J. Minh Ly flopped a set and Doyle's stack took a big hit. He was down to under $150K but rallied to double up in chips once the final table started.
Here's the final table including chip counts:
Seat 1: Scotty Nguyen (Las Vegas, NV) $254K
Seat 2: Doyle Brunson (Las Vegas, NV) $309K
Seat 3: Minh Ly (Temple City, CA) $305K
Seat 4: Layne Flack (Las Vegas, NV) $350K
Seat 5: Jason Lester (Miami, FL) $119K
Seat 6: Ayaz Mahmood (Houston, TX) $169K
Here are some random facts about out final table players:
The players at the final table have won at least 18 bracelets combined.
Scotty Nguyen won 4 WSOP bracelets including the main event in 1998.
Doyle Brunson won the main event in 1976 and 1977. He also won bracelets in H.O.R.S.E, Deuce to Seven Draw, No Limit, Seven-card Stud, Seven-card Stud Hi/Lo, and Mixed Doubles.
Minh Ly was born in Vietnam. He has 5 cashes at the WSOP. This is his second final table and he's looking for his first bracelet. He plays in the "Big Game" with Doyle Brunson, Chip Reese, and Barry Greenstein.
Jason Lester used to be a trader on Wall Street. He came in 4th at the 2003 WSOP main event.
Layne Flack reached 10 final table and won 5 bracelets in his WSOP career.
Ayaz Mahmood was born in Pakistan. He's in the hotel business back in Texas.
When the players were announced by tournament director Johnny Grooms, Doyle Brunson got a standing ovation from the audience. Early on, there was a race between Jason Lester's A-K and Scotty Nguyen's pocket sevens. Lester was still behind and picked up more outs with a helpful all spades flop of Q-J-8. The turn and river did not help Lester and he was the first player eliminated from the final table. He won $67,905 for 6th place. Scotty Nguyen moved into the chip lead.
On the ery next hand, Layne Flack went heads up with Ayaz Mahmood preflop when they both moved all in. Mahmood had the Hilton Sisters while Layne showed pocket aces. Layne flopped an Ace and caught quad Aces on the river to move into the chip lead. Ayaz Mahmood finished in 5th place and won $82,055.
Doyle Brunson became the chiplead after he won a big pot from Layne Flack, who flopped top two pair with K-J. On a flop of K-J-8, Doyle had A-8 with bottom pair and called Flack's bet. Doyle caught trips on the turn to win the pot. During one of the breaks, Doyle and Layne stayed at the table and played a couple of hands of Chinese Poker.
For a while it seemed that Scotty Nguyen did not want to play any hands. He sat back and watched Doyle Brunson and Lane Flack battle back and forth, with Minh Ly occasionally jumping into the fracas. Doyle Brunson moved all in with pocket Kings against Layne Flack's A-Q. Doyle flopped a set when a King fell and he caught a full boat on the river to double up against Layne. Doyle Brunson moved back into the chip lead.
With a short stack, Layne Flack got some of his chips back when he doubled up with 8-6o against Doyle's A-4. He later moved all in with the Hilton Sisters. Doyle called with A-Q. Layne Flack's Hiltons held up and he doubled up against Doyle again.
Doyle Brunson raised on the button and Minh Ly and Layne Flack both called. The flop was 10c-9h-3s and Layne Flack moved all in. Brunson called and Ly folded. Flack showed K-10 and Brunson flipped over K-9. Brunson was behind until he caught a 9 on the turn. Layne Flack's hand did not improve after Doyle sucked out on him. After four hours of four-handed play Layne Flack was eliminated in fourth place. He won $99,030.
Doyle ran out to a huge chiplead despite the weary look on his face. The usually animated Scotty Nguyen was mellow. He remained patient while looking for his spots. Doyle took a huge chunk out of his stack, but he hung on a doubled up against Minh Ly. Scotty Nguyen was short stacked and moved all in with Q-J against Minh Ly's pocket fives. Scotty didn't catch any cards and he was eliminated in 3rd place. Scotty Nguyen won $106,105. Doyle has almost a $800K chip lead over Minh and the two began heads up play.
After a half hour, with Doyle fighting back fatigue, he chipped away at Minh Ly's stack. On the winning hand, Minh Ly limped in and Doyle pushed all in. Minh Ly called with K-Q and Doyle flipped over 10-3. Although Minh Ly trapped him, Doyle flopped a 3 and Minh's hand did not improve. Doyle Brunson won his record tying tenth WSOP bracelet and won $367,800. For second place Minh Ly won $203,715. Doyle Brunson won both of his World Championships with the 10-2 off suit and picked up his tenth bracelet with 10-3 off suit.
Doyle Brunson showed everyone that age does not matter at the poker tables. He finished 53rd in last year's main event and outlasted over 95% of the field. He also won an event on the most recent season of the World Poker Tour. Now he has another bracelet to add to his collection.
"It's hard to substitute for experience. And let's just face it nobody has more experience than me. Nobody is as old as I am either," he said to the jubilant crowd that stayed until 4 AM to witness another historic moment in World Series of Poker.