SENIORS EVENT CROWNS OLDEST WORLD SERIES OF POKER BRACELET WINNER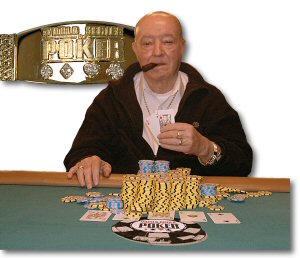 [Be sure to visit the World Series of Poker live blog from Dr. Pauly. More photos are now in the 2005 WSOP Photo Gallery. Complete World Series of poker tournament results can be found at Poker Player Newspaper.]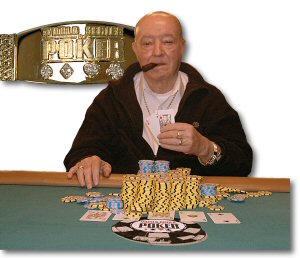 Paul "Cigar" McKinney is 80 years old and he's been playing poker longer than the majority of WSOP participants have been alive. He has won or made the final table at tournaments in Atlantic City, Tunica, Foxwoods, and Las Vegas. Although he never won a WSOP bracelet, he's made several final tables and has plenty of WSOP cashes. He played excellent poker for two days and survived a heads up battle that almost lasted three hours.
Anyone over the age of 50 can play in the Seniors No Limit event. 825 players bought in for $1,000 each. The 21 players who returned to day two, were competing for a prize pool of $750,750. Once play got down to the final table, an Elvis impersonator stopped by to sing a song and poker legend Oklahoma Johnny Hale gave a spectacular speech.
Here's who made the final table:
Seat 1: Peter Vilandos (Houston, TX) $64K
Seat 2: Charles Zeghibe (Las Vegas, NV) $70K
Seat 3: Louis Barkoutsis (New York, NY) $65K
Seat 4: Paul McKinney (Kingsport, TN) $86K
Seat 5: Carol Bollinger (Mandeville, LA) $85K
Seat 6: Paul "Catfish" Fischman (Sarasota, FL) $160K
Seat 7: Robert Redman (Liberty, MO) $85K
Seat 8: Bob Hume (Orlando, FL) $179K
Seat 9: Daniel Klein (North York) $85K
Here are some random facts about the final table players:
Paul McKinney is nicknamed "Cigar." On his bio sheet he listed his hobbies as: moonshine, cigars, and young women. He made the final table at the main event in 1998 and made at least 5 final tables at the WSOP since 1998.
Peter Vilandos was born in Greece and he's a Pot Limit Hold'em specialist.
Daniel Klein is nicknamed the "Prof" and he was born in Tel Aviv.
Louis Barkoutsis was born in Greece and is a car wash owner.
Carol Bollinger was born in New Orleans. She is known as Kamikaze Mimi.
Bob Hume is known as the "Human Calculator" and was born in England. He has already won five seats to the main event via satellites.
Paul Fischman is known as "Catfish" to his friends. He's a retired physician.
Robert Redman is a management consultant. He made the final table at the main event in 1998. He has 7 cashes at the WSOP.
Charles Zeghibe is known as "Charlie Horse." He's a retired teacher and has no WSOP experience.
Carol Bollinger was the first player busted when she moved all in with Kh-5h. Bob Hume thought about if for a few minutes and called with K-J. He flopped a Jack and Carol Bollinger could not catch up. She was eliminated in 9th place and won $15,015. Charles Zeghibe knocked out Daniel Klein. Both players moved all in on a flop of A-K-8. Zeghibe had two pair with K-8 and Klein showed A-Q. Daniel Klein won $22,525 for 8th place.
Paul McKinney began his run when his Ah-Qh doubled up against Bob Hume's pocket Kings. McKinney caught a flush on the turn and that was a huge pot for him. Peter "The Greek" Vilandos was eliminated in 7th place. Vilandos moved all in on the flop with A-7, while Charles Zeghibe called with A-9. Vilandos' hand did not improve and he was busted. He won $30,030.
Paul McKinney knocked out Louis Barkoutsis in 6th place. Barkoutsis pushed with pocket sevens and McKinney called with As-Qs. McKinney flopped an ace and caught two par on the river to eliminate Barkoutsis in 6th place. He won $37,540. Robert Redman doubled up a second time within an orbit against Charles Zeghibe. Redman had A-K and Zeghibe showed A-8.
Charlie Zeghibe was eventually knocked out in 5th place by Paul McKinney who moved all in preflop with K-K. Zeghibe showed A-4 and although he flopped a pair of fours, his hand failed to improve and he was eliminated in 5th place. He won $45,045. Robert Redman and Bob Hume were both all in preflop. Robert Redman turned over A-Q and Hume flipped over pocket Jacks. Hume's Jacks held up and Robert Redman went home in 4th place and won $52,555.
Paul Fischman was just busted by Paul McKinney who pushed with Ad-3d. Fischman flipped over Q-4. McKinney flopped a nut flush draw and caught it on the river. Paul Fischman was eliminated in 3rd place and won $60,060. Bob Hume was heads up with Paul McKinney, who held a slight advantage.
More history was made tonight. After almost three hours of heads up play, Paul McKinney, with an unlit cigar tightly clenched in his mouth, won his first bracelet and became the oldest bracelet winner in the history of the WSOP. Bob Hume won $106,230 for his hard work. Paul McKinney won $202,725.
Although it took longer than he probably expected, it was great to see a guy like Paul McKinney finally win a WSOP bracelet.