WSOP EVENT #41 MEDIA/CELEBRITY TOURNAMENT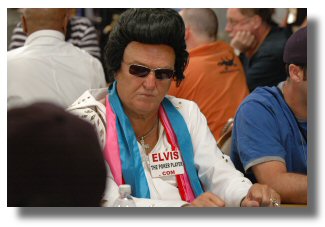 [Be sure to visit the World Series of Poker live blog from Dr. Pauly. More photos are now in the 2005 WSOP Photo Gallery. Complete World Series of poker tournament results can be found at Poker Player Newspaper.]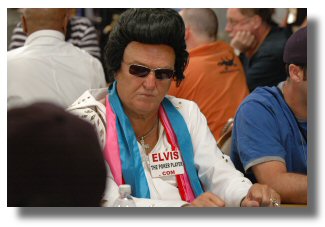 About 260 players came out for the WSOP Celebrity/Media tournament. There were plenty of the celebs who participated: James Woods, Brad Garret, Dick Van Patten, Shannon Elizabeth, Penn Jillette, Oliver Hudson, Elvis, and Oklahoma Johnny Hale. Nicole Ritche was sweating her boyfriend DJ AM. Notable bloggers and media types: Lou Kreiger, Otis, the Poker Prof, Debi, Jen Leo, Tuscaloosa Johnny, John from Poker News, the Poker Pages crew (Amy, Dayrn, Sharla, and Steve), BJ, Jay Greenspan, NYC Poker Babe, The Irish Twins: Tom Murphy & Mike Lacey, Dan & Shane from Pokerati, and Sherry. I'm sure I'm missing a few and I'm sorry if I did.
Before the event began. Nolan Dalla asked if the crowd for a moment of silence in honor of Andy Glazer who passed away last year.
Here are the money winners and final table players:
1st – Randy Bowan (Noblesville, Indiana)
Media Outlet: Fantini's Morning Report
Charity: Noblesville Boys & Girls Club ($10,000)
2nd – Jake Witcher (London, England)
Media Outlet: Gutshot.com
Charity: Trace Transatlantic Children's Enterprise ($1,000)
3rd – Mike McCloskey (Co. Derry, North Ireland)
Charity: Glenshane Community Care ($750)
4th – Casey Robbins (Milwaukee, Wisconsin)
Media Outlet: WJJO-FM
Charity: National Childhood Cancer Foundation ($500)
5th – Gregory Go (Torrance, California)
Media Outlet: Online Poker Guides & Reviews
Charity: UCLA Alumni Association ($350)
6th – Paul "Dr. Pauly" McGuire (New York City)
Media Outlet: FoxSports, Poker Player Newspaper, Lasvegasvegas.com
Charity: The Charlie Tuttle Foundation ($250)
7th – Lisa Denkinger (Chicago, Illinois)
Media Outlet: PokerGeek.com
Charity: Red Door Animal Shelter ($200)
8th – David Moore (Moorpark, California)
Media Outlet: USA Today
Charity: Michael J. Fox Foundation ($150)
9th – Charlotte Nilsson (Uppsala, Sweden)
Media Outlet: Expressen
Charity: World Children Foundation ($100)
10th – Dean Stone (Halifax, Nova Scotia, Canada)
Media Outlet: Sport Databases
Charity: Poker Cancer ($100)
Action started out fast for me. I caught pocket aces in consecutive hands and got two people to go all in both times. I knocked out Otis. I eventually got moved to Lou Krieger's table. I doubled up with Qs-10s against 8-8. I caught a flush on the river.
I was one of the chip leaders when I was moved to Shannon Elizabeth's table. She moved all and I called with J-J. She flipped over A-A and I was way behind. I pointed to where the river card would be and asked the dealer, "Give me a Jack!" I kept pointing until he dealt the river card. The room exploded when a Jack spiked. Shannon was visibly upset after I rivered a two outer on her. Later on in the hallway, when I explained to her I was playing for Charlie Tuttle, she took the beat a lot better. I also won the "last longer" bet among the bloggers. It was a nice win and I was proud to snag another prop bet.
When there were two tables left, I was the chip leader. Amy Calistri bubbled out and I made the "money" and my first final table at the WSOP. I was 3rd in chips but the blinds were going up so fast that I had to make a move. I went card dead and found Ad-6d in late position. I was up against 8-8 and I couldn't improve my hand. I was bounced in 6th place and won $250 for a charity at Vanderbilt Hospital in memory of Charlie Tuttle.
I'm nowhere close to playing at the same level as Barry Greenstein, but I knew what he meant when he said that his play was inspired by Charlie Tuttle. I really felt that Charlie was there with me in some capacity.
Congrats to Randy Bowan who won $10,000 for the Noblesville Boys & Girls Club.