ULTIMATE POKER CHALLENGE FINAL TABLE RECAP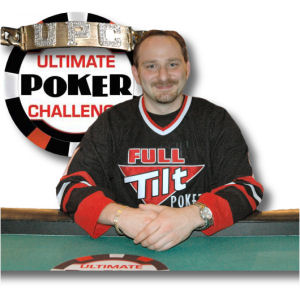 Flipchip and I went back downtown to the Plaza for the final table of the Ultimate Poker Challenge. The buy-in was $10K and 55 players entered. At stake was $167,500 for first place and the coveted gold bracelet. There were plenty of top pros in the tournament and the final table was filled with some familiar names and faces.
Here's the Final Table Seating & Chip Counts:
Seat 1: Andy Bloch $305K
Seat 2: Blair Rodman $169K
Seat 3: Scott Fischman $139K
Seat 4: Senthil Kumar $331K
Seat 5: Mike Wattel $351K
Seat 6: Chau Giang $234K
Seat 7: Ted Forrest $124K
Here are some random facts about the final table players:
Andy Bloch had three final table appearances last year at the UPC with one victory. This was his second final table for this season's UPC. Andy also won one of the Rio WSOP circuit events.
Blair Rodman has a book coming out titled Kill Phil. It's about beating top pros in tournament poker.
Scott Fischman cashed in two WSOP events including a second place finish in the $1500 NL event.
Ted Forrest won the PPT event #1 at the Mirage. He also came in 2nd at the last WPT event also held at the Mirage.
Senthil Kumar has 3 cashes at this year's WSOP and has made one final table on the WPT.
Chau Giang is a former cook who plays in "The Big Game" with Doyle Brunson, Phil Ivey, Chip Reese, and Bobby Baldwin. He plays around 85 hours of poker a week.
The action went fast even though the tournament directors raised the levels from one hour to ninety minutes. The format of the tournament was seven-handed tables which pleased a lot of players. "Seven-handed is great," said Any Bloch. "I prefer short-handed events. You get to play more hands and the action is faster. More tournaments should be short-handed."
Ted Forrest was the first player eliminated from the final table. All the money went into the pot before the flop. Ted had A-Q and Chau Giang showed A-K. Ted Forrest won $21,500 for 7th place. Scott Fischman was the next player busted when his pocket Kings ran into Blair Rodman's A-A. Fischman won $27,100 for 6th place. Senthil Kumar was the next player knocked out. He won $32,500 for 5th place when his A-9 lost to Blair Rodman's A-Q.Mike Wattel was eliminated just as his girlfriend Cyndy Violette arrived to cheer him on from the rail. On a flop of 7s-6s-6c, Wattel check-raised Andy Bloch, who thought for a second and then moved all in. Wattel called. Andy showed A-7 for two pair and Mike had As-8s for just the nut flush draw. Wattel picked up a straight draw on the turn but the river was a blank. Mike Wattel was eliminated in 4th place and he won $44,300. Andy Bloch had a commanding chip lead with over $1.1M. Chau was second with $307K and Blair Rodman had $205K.
Chau Giang and his pocket Kings doubled up against Blair Rodman's A-8, but he would be knocked out by Andy Bloch soon after. Shortstacked, Chau Giang moved all in with K-J and Andy Bloch flipped over A-J. Bloch's hand held up and Chau won $54,600 for 3rd place.
When play reached heads up, Andy had $1.4M in chips to Blair Rodman's $206K. Andy aggressively went after Rodman's stack. Whenever Rodman bet it seemed that Andy went over the top. Eventually, Rodman had next to nothing and he moved all in preflop with 9-4. Andy Bloch called with J-4 and his hand held up. Blair Rodman won $100,750 for second place. Andy won $167,500 for first place and the UPC gold bracelet.
"I think this win makes me about even after all the World Series of Poker buy-ins," Andy joked.
It was a pleausre to see a great guy like Andy Bloch win the UPC main event. It seemed like he played in almost every WSOP event and with only one cash in the Pot Limit Hold'em event. Congrats again to Andy!