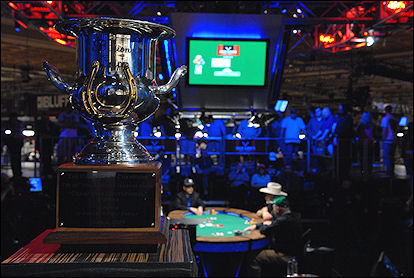 August 7, 2009
NOVEMBER NINE WSOP PROP BETS AND TEAM BODOG WSOP RESULTS
Bodog is giving action junkies the chance to get in on the November Nine frenzy with the recent release of their November Nine World Series Of Poker Prop bets now available at Bodog's Online Sportsbook.
The biggest wager revolves around the odds of which player will actually walk away as the 2009 WSOP Main Event champion. The current chip leader – Darvin Moon – is listed as the favorite at 17/10 odds to win the 2009 WSOP Main Event Final Table, followed by Eric Buchman, who is listed at 3/1 odds to win. Right behind them are poker pros Phil Ivey, Steve Begleiter and Jeff Shulman, who are all listed at 4/1 odds to win.
Bodog's oddsmakers have also put Ivey, the most experienced player at the final table, exiting in forth or fifth place at 7/4. Along with these wagers, there are also odds as to whether the winner will be European or American, what suit the final river card on the final hand will be, and many more fun poker prop bets.
Team Bodog had a good run at the 2009 WSOP Main Event with a good number of players making it into Day 3. The Team Bodog professional that went the deepest was Justin Bonomo, who went out in 442nd place. Bonomo managed to make it to the money, but didn't get deep into the big payouts.
Jean-Robert Bellande knocked out David "Chino" Rheem after getting placed at a tough table on Day 1, and David Williams finished in fourth place in the $1,500 Limit Holdem Shootout, narrowly missing winning his second WSOP bracelet. Williams had two other WSOP cashes this year; a 16th-place finish in the $10K PLO World Championship for nearly $35K, and his 597th-place finish in the Main Event for another $21K.
The Team Bodog member that went the deepest was Alper "thunderfx" Sar from Turkey, who qualified for the 2009 WSOP Main Event playing online poker at Bodog by winning a WSOP Semifinal Event. Sar collected $57,991 for an 85th-place finish. At one point his chip stack was as big as 1.9 million, but some bad luck knocked him out before he could reach the big payouts.
Posted by flipchipro at 8:46 PM | Permalink | Comments
August 4, 2009
2009 WSOP CHAMPION'S INVITATIONAL TONIGHT ON ESPN
photo by flipchip • lasvegasvegas.com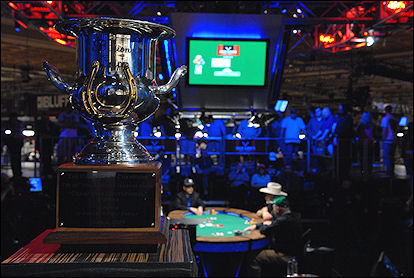 The Binion Cup trophy presides over the final table of the 2009 WSOP Champion's Invitational event
Tuesday night means 2009 World Series of Poker on ESPN Sports TV. Grab the snacks and a few brews and settle back for two hours of poker as played by former WSOP Main Event champions. Everyone playing in tonight's offering has at least one WSOP Championship bracelet. This is the crème de la crème of WSOP poker.What better way to study how the champions play? They are playing for a shiny red no-mileage 1970 Corvette Stingray, the Binion Cup trophy, and a year's worth of bragging rights as the WSOP Champion of Champions so don't miss this special poker event. Tonight you will see episode's #3 & #4 from the 2009 WSOP ESPN coverage beginning at 8 PM ET on the ESPN sports network. Check local listings for exact times in your area.
Many more Flipchip photos featuring former WSOP Main Event Champions playing in the 2009 WSOP Champions Invitational event are waiting after the jump.
*********************************************************************
Continue reading "2009 WSOP Champion's Invitational Tonight ON ESPN" »
Posted by flipchipro at 1:31 AM | Permalink | Comments
August 3, 2009
CHEROKEE NATION CASINO MORPHS INTO HARD ROCK CASINO TODAY
photo by flipchip • lasvegasvegas.com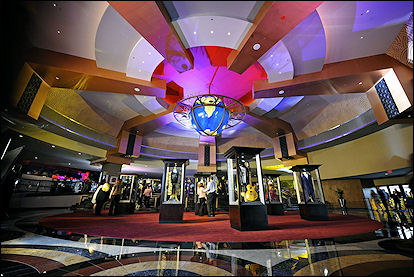 Guests are greeted with the all-new stunning Hotel Lobby decorated with more than $2 million in music memorabilia
Located in Tulsa, Oklahoma, the Cherokee Nation's highly successful Casino Resort stands poised to enter the next phase of success when it becomes only the seventh Hard Rock Casino & Hotel and the only Hard Rock in the heartland of America. The grand opening ceremonies begin at 1:00 PM Tulsa Time (CDT) with keynote speeches from the Cherokee Nations Principal Chief Chad Smith and Cherokee Nation Entertainment CEO David Stewart. On-hand will be Hard Rock corporate officials and music superstar Toby Keith will be opening his newest Toby Keith's I Love This Bar & Grill.Cherokee Nation Entertainment is synonymous with world class entertainment and now moves to the next level with the Hard Rock branding of their casino resort. A new tower adds 200 rooms to the existing hotel bringing the total number of rooms to 350. In the mix are new Hard Rock Suites and the ultra opulent Chief's Suite for those that require the finest in accommodations, impeccable service, and mandatory luxurious amenities.
Five restaurants insures a menu for every taste with the McGill's on 19, a penthouse located fine-dining venue, providing an intimate dining experience of unmatched culinary delights. Five nightclubs offers entertainment options to please everyone. From the Center bar with its 80 foot long frozen bartop to the urban sheik, metro style Friction Lounge.
The resort combines the rich history and unique art of the Cherokee people, the long-established musical heritage of Oklahoma, and the rock n' roll tradition of the Hard Rock to provide an unsurpassed vacation destination in the Mid-South. More than 2,300 modern slots are located in the 125,000 square feet of casino and 70 table games including 36 live-action poker tables are available 24/7.
An award winning 18-hole, par 70, Cherokee Hills Golf Club championship golf course is situated next to the resort on 170 beautifully landscaped acres. A Las Vegas style swimming pool area is set to open this Fall.
The Hard Rock Hotel & Casino Tulsa is wholly owned and operated by Cherokee Nation Entertainment and offers employment opportunities to more than 3,400 people including 2,380 Native Americans. Oklahoma and surrounding areas are the recipients of more than a billion dollars annually from the revenues produced by Cherokee Nation Entertainment. Casino profits are divided with 70% going into expansion efforts and 30% going directly into the Cherokee community for government services including, but not limited to, schools, medical centers, social services, modern communications, and improved living conditions.
Additional details are available at Cherokee Nation Entertainment and Cherokee Nation.
Posted by flipchipro at 5:17 AM | Permalink | Comments
July 30, 2009
BODOG AWARDS PLAYER WITH ONE OF THE FIRST SEATS TO THE 2010 WSOP
With the 2009 World Series of Poker Main Event on hold until the return of the "November Nine," Bodog.com already has its sights set on next year's Main Event in Las Vegas. One of the first events to qualify online poker players for the 2010 Poker World Series, the Bodog Mini Poker Series, awarded a $12,000 prize package this past Sunday to winner John "Getn_Outa_MI" Ormsby.
"The possibility of winning a seat in next year's Main Event was the main reason I was interested in playing in the Bodog Mini Poker Series," explains Ormsby, who has earned the distinction of becoming the first member of Team Bodog at the 2010 Poker World Series. "I've always wanted to go to Vegas to play in the World Series but have never had the chance. The Mini Series provided me with a great opportunity to do so."
Wrapping up the 13-event online poker tournament series that ran alongside the 2009 Poker World Series Main Event, the Bodog Mini Series Final included 82 players, all who had either won their way in by placing in the top ten of the series' Tournament Leader Board, placing in the top 18 of the Semifinal Tournament held on July 21, or playing in all 13 of the Bodog Mini Poker Series events.
While it was the $12,000 Poker World Series package the players were ultimately battling for, it was not the only prize up for grabs in the Bodog Mini Poker Series Final. "Dannenman" and "turningstone," who finished second and third respectively, each won buy-ins to every event in the upcoming Bodog Poker Open IV (T$2,000). "ManHound" and "prophet" each received seats to any Bodog Flight Club Semifinal (T$270) of their choosing for finishing in fourth and fifth. For placing sixth through ninth, "Mattaru," "Jeffrado," "PrinceSheba," and "757Gam" each won entry to one of Bodog's weekly $100,000 Guaranteed Poker Tournaments (T$162), held every Sunday at 4:00 pm EST.
With the Bodog Mini Poker Series now in the books, attention in the Bodog.com Poker room turns to Bodog Flight Club, which awards online poker players prize packages to major poker tournaments all over the world, including the EPT, WPT and LAPT. Right now, qualifiers are running for the WPT Legends of Poker event at the Bicycle Casino in Los Angeles. Bodog.com players can get started on their way for as little as $1 or 100 Bodog Poker Points.
Posted by flipchipro at 12:53 AM | Permalink | Comments
July 29, 2009
2009 WSOP ON ESPN SPORTS TV EVERY TUESDAY 8 PM
photo by flipchip • lasvegasvegas.com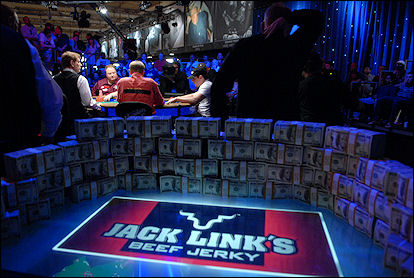 $1,891,012 in cash waits for the winner of event #2, the $40,000 Anniversary Event
Tuesday night is WSOP poker night on ESPN Sports TV. Beginning at 8 PM ET July 28th get set for two hours of 2009 WSOP Poker every week until the November final table. Shows 1 & 2 kick off the action with the final table of the 2009 WSOP 40th Anniversary $40,000 NLHE Championship. The winner, Vitaly Lunkin, received almost $1.9 million in cash and a WSOP Championship Bracelet. Second place went to Isaac Haxton along with $1,168,655 in prize money.More Flipchip photos featuring former WSOP Main Event Champion playing in the $40K event after the jump.
************************************************************
Continue reading "2009 WSOP on ESPN Sports TV Every Tuesday 8 PM" »
Posted by flipchipro at 1:26 AM | Permalink | Comments
July 22, 2009
VOLUNTEERS OF AMERICA CHARITY POKER TOURNAMENT TODAY
photo by flipchip • lasvegasvegas.com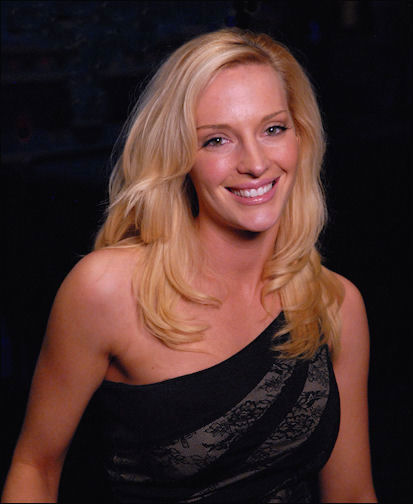 Lacey Jones is scheduled to play
Here's another opportunity to rub shoulders with some of poker's elite while doing a great service for our senior citizens in need of special care. The M Resort Las Vegas is hosting a charity poker tournament today, Thursday, July 23rd at Noon, to benefit Homestead of Boulder City, a Volunteers of America assisted living and memory care facility serving Southern Nevada.The tournament is a $200+20 Buy-In NLHE event with unlimited $30 Rebuys the first three levels plus one $30 Add-On for double the starting chip stack. Fifty percent of all proceeds will go to the charity while the remaining fifty percent will be paid out to the final table players. The winner will also receive a very nice Rockwell Time sports watch. Complete details are available at greasywheels.com.
Posted by flipchipro at 7:58 PM | Permalink | Comments
July 21, 2009
2009 WSOP MAIN EVENT DAY 8 PHOTOS
photo by flipchip • lasvegasvegas.com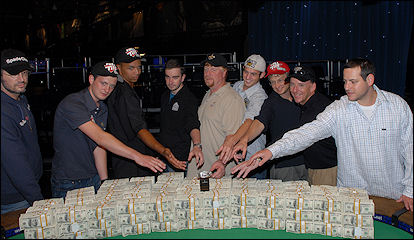 November Nine pose with the elusive World Championship bracelet and a couple of dollars in cash
Day 8 of the 2009 World Series of Poker Main Event welcomed 27 players to do battle commencing at High Noon across the felt for the nine seats of the November Final Table. Those 9 lucky players would leave the Amazon Room at the Rio Resort as members of the nouveau riche, all millionaires after each received $1,263,602 for 9th place.Considering the amount of money at stake it was again assumed the players would show caution and restraint, playing far into the wee hours of the next day. Some thought we could still be there twenty four hours later recording a slow grind toward poker immortality. No one believed it would be over in time to catch the 11 o'clock news. There was no fear among this crowd of poker warriors. Aggression ruled on the day and "All-in and a Call" was the oft-heard battle cry.
More Flipchip photos from Day 8 after the jump.
*************************************************
Continue reading "2009 WSOP Main Event Day 8 Photos" »